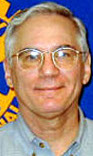 "We throw them away in this country," said Maxwell, still shaking his head in disbelief at the thought of that day more than a decade ago in the Philippines. "It graphically showed to me the difference between the haves and the have-nots."
That day in the early '90s put Medical Supplies Network Inc. into motion. With Maxwell as the founder, and his fellow Rotarians picking up the reins to help, MSNI shipped its first four sea containers of medical supplies overseas in 1996. This month (1/2006), 10 years after that first shipment, the organization will send its 104th container. UPDATE in December 2022 Over 282 containers was shipped to 47 different countries.
The container, which is filled with medical supplies and funds for a small village in Uganda, was started by St. Dunstan's Episcopal Church, 5635 E. 71st St., of which Maxwell is a member.
"As I think about what we have here, it's very clear it's a group project between the Rotary and the church," Maxwell said. "I'd tried for some time to get the church to partner with MSNI and Rotary."
This month's (Jan. 2006) shipment will go to support bush clinics in the Bushenyi area of Uganda, as well as the College of Tertiary Studies there. A sister Anglican parish runs the school. Bush clinics are field medical clinics set up between villages in Africa, often without electricity or running water.
The founding priest for St. Dunstan's, the Rev. Canon Dick Daniels, started the idea for Maxwell of sending supplies to Uganda. The priest from Uganda came to St. Dunstan's to visit, and spoke of the need of the people. Daniels had an interest in shipping him some much-needed books.
"That initial help from Dick Daniels sparked this idea in my head," he said. "I thought, 'Why don't we ship more than just these books to our sister parish over there.'"
During the months that followed, Maxwell was able to collect money from the church, the Diocese and Rotary International. He also received an abundance of medical supplies and equipment from medical facilities in Oklahoma, Kansas, Arkansas and Missouri. Along with the supplies, the effort will sponsor nine scholarships to the Tertiary school for AIDS orphans. Maxwell said $350 will provide everything a child needs at the school for one year for one child.
"These are kids that would have been street kids," he said. All told, the container has more than six tons of supplies and educational materials being shipped. The container will also be left there to be used as a locked storage facility.
Maxwell's drive to help the people of third-world countries hasn't waned in the past decade. He decided that day at that hospital in the Philippines that he needed to do something to help. He knew he could count on his fellow Rotarians to help him find a way.
That drive began MSNI, which has helped people in 32 countries. "I had no clue how I was going to do it," Maxwell said. "It was an amazing accomplishment."